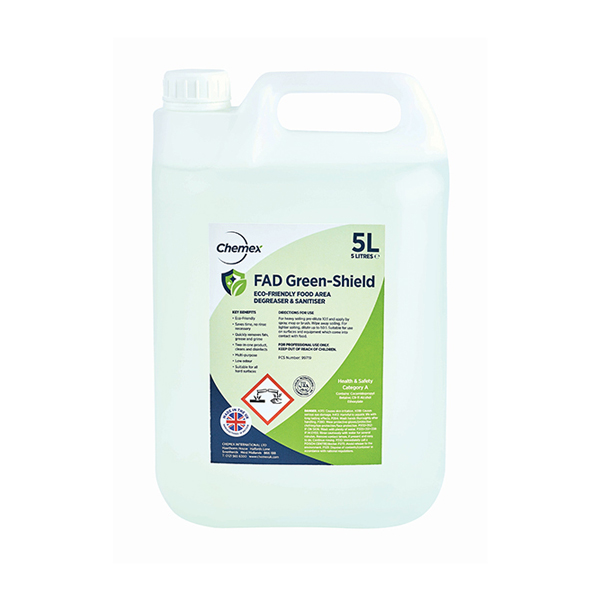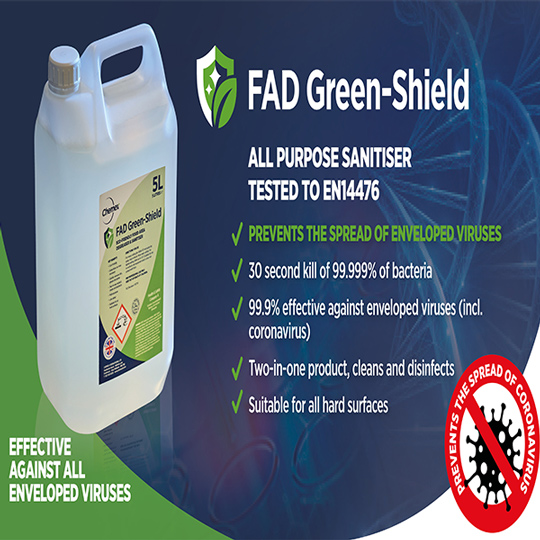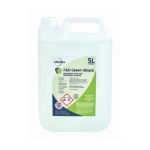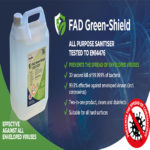 FAD Green Shield
Eco-Friendly Food Area Degreaser and Sanitiser.
The BIOCIDAL ACTIVITY of FAD Green-Shield has been independently tested and conforms to BSEN1276 and 13697 tests, plus BSEN14476 as required by the FSA. It is effective against enveloped viruses including Corona virus.
Description
Benefits
Product Format
Description
FAD Green-Shield is an innovative, environmentally friendly cleaner and degreaser, suitable for a wide variety of tasks. It effortlessly kills 99.999% of bacteria without the need to rinse, quickly removes fats, grease and grime from hard surfaces, allowing you to effectively clean and sanitise with one food-safe product. FAD Green-Shield saves you valuable service time, no need to worry about MRL's or the need to rinse surfaces, simply wipe with a sterile cloth.
• 30 second kill of 99.999% of bacteria
• Environmentally friendly, readily biodegradable
• Quickly removes fats, grease and grime
• Two-in-one product, cleans and disinfects
• Multipurpose
• Suitable for all hard surfaces
• Saves time, no rinse necessary
5 LITRE polythene bottles.