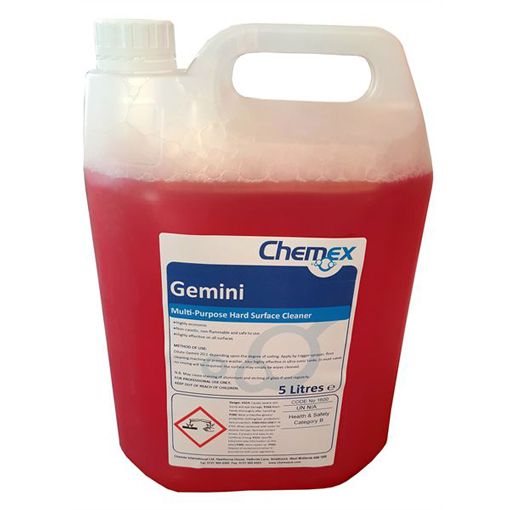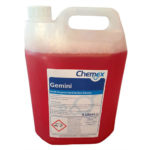 Description
Areas of use
Packaging
Description
Gemini is a liquid concentrate ideal for cleaning almost any hard surfaces.
It is always used diluted with water and is safe to use on metal, plastic, concrete and rubber surfaces. Gemini is a mildly alkaline, non-caustic product. It contains water softeners, surface active agents and a water miscible solvent. This combination makes it very effective at wetting and penetrating greasy and earth based soils allowing them to be wiped or flushed away.
Gemini is a genuine multi-purpose cleaner, being used in a diverse range of situations for cleaning floors, walls, tiles, doors and work surfaces.
It is also used for cleaning small components and jewellery in ultrasonic tanks.
RECOMMENDED DILUTION RATES

Trigger Spray – Spray on and Wipe Off – tiles, laminated table tops etc.

20:1

50:1

 – 

80:1
Stripping metallised emulsion floor polishes
UPVC window frames and garden furniture
Housekeeping – Floors, walls, ceilings, paintwork and shower stalls
Gyms and Leisure Centres – Squash court walls, grass stains from sports equipment and mowing machines
Printing – Removes ink from printing rollers, presses and duplicating machinery
Marine – Removes mildew and salt stains
Industrial – Removes grease and grime from machinery and small components. Removes built up resin from saw lades, planers and sanding belts