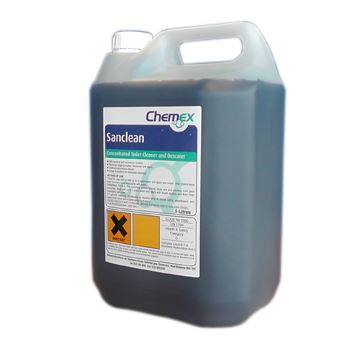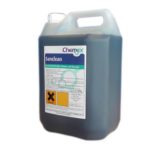 Sanclean
Concentrated Toilet Cleaner and Descaler
Description
Areas of use
Product Format
Description
Many people will judge the quality of an establishment by the standards maintained in their washroom.
Chemex helps thousands of customers around the world to ensure good cleaning and hygiene practices are upheld.
Sanclean is a highly concentrated acidic toilet cleaner and descaler and part of a range of washroom products designed to provide an impeccable environment for users.
Its thickened formulation clings to the surfaces of toilet bowls and urinals allowing a longer contact time and so more effective cleaning. The acid component has been selected for its rapid action in dissolving limescale, urine scale and iron stains, and also for the speed with which it destroys the organic matter that can cause bad odours.
Its gentle perfume leaves the toilet smelling clean and fresh.
The level of active ingredients in Sanclean allows for it to be diluted with up to 5:1 with water and still have a rapid effect on soil and scale.
Sanclean is suitable for cleaning all porcelain and ceramic toilet bowls and troughs as well as baths and wash basins where water or rust staining are a problem. It is also used for removing suntan lotions, body oils and staining from poolside surrounds and wet-side changing areas.
RECOMMENDED DILUTION RATES
Use neat for heavy soiling and scale – or diluted up to 

2:1

 with water for normal regular use.
Do not use Sanclean on chrome fittings as there is a risk of corrosion.
Toilet bowls and urinals
Wash basins
Baths
Showers
Wet-side changing rooms
Poolside
Saunas
5 LITRE polythene bottles.