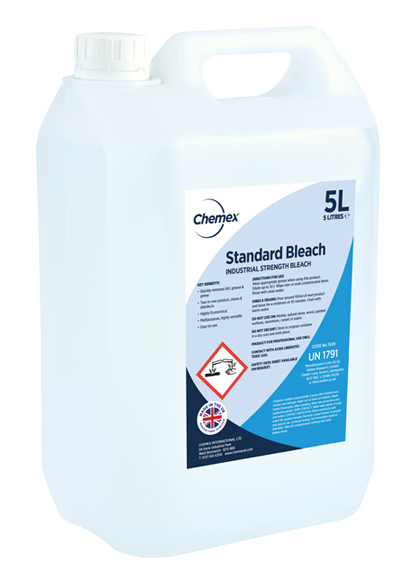 Standard Bleach
Industrial Strength Bleach
Description
Areas of use
Product Format
Description
Chemex Standard Bleach is a powerful hypochlorite based cleaner and disinfectant. This fast-acting bleach is ideal for keeping drains clear, toilets clean, disinfecting hard surfaces and eliminating malodours. Easy-to-use and extremely versatile, Chemex Standard Bleach is effective against bacteria, viruses and fungi.
BENEFITS
• Quickly removes dirt, grease & grime
• Two-in-one product, cleans and disinfects
• Multipurpose, highly versatile
• Highly economical
• Easy-to-use
RECOMMENDED DILUTION RATES
Use neat above waterline allowing it to run below waterline

Soaking items in bowl or sink to de-stain

10:1

 for 20 minutes
Use neat
Use neat
Chemex Standard Bleach is based on sodium hypochlorite and will kill most bacteria and viruses.
Toilets and Bathrooms
Laundry
Drains and sinks
5 LITRE polythene bottles.