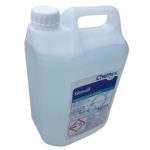 Kleenall
Multi-Purpose Cleaner Concentrate
Description
Areas of use
Packaging
Description
Kleenall  has been formulated to give a powerful cleaning action while keeping the pH close to neutral so that it is safe to use on all hard surfaces.
It  is a neutral, multipurpose cleaner concentrate which contains penetrating agents, fast acting emulsifiers and soil suspending agents.
Cleaning with Kleenall requires no hard scrubbing or rinsing. The cleaning solution will penetrate and lift the dirt allowing it to be picked up with a mop or cloth, leaving a thoroughly clean area.
RECOMMENDED DILUTION RATES
50:1

Wiping/sponging hard surfaces

50:1

25:1
Vinyl and wood block floors
Marble, stone and any acid or alkali sensitive floors
Painted floors and walls